Happy Saturday!
The sun is shining today in Iowa and even though it's windy, it is above 40 degrees and it is supposed to be 60 degrees this week! My sister in Arizona would probably disagree with me that 60 degrees is perfect but after having negative temperatures for quite a while, I am excited!
I thought I would share with you some of my favorite things lately since I am working on many projects at the moment and none of them are finished (surprise, surprise!).
Target has their Easter decorations out and even though I am sure I could have easily made this banner, it was $6.99 and I love the colors. I plan on using it in my 2 year old daughter's room since she loves any kind of festive decorations or fabrics.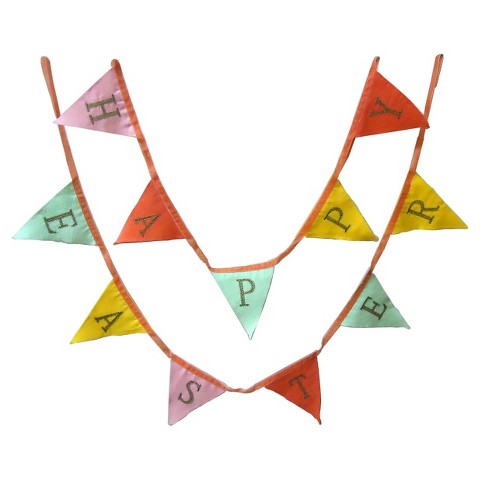 Target
Of course, I did see this bunny garland and I didn't think the bunnies would stay put when it is hung up so I know I could easily DIY this and move the string up higher so the bunnies stay visible and don't get twisted. Stay tuned to see how it turns out!
Target
I don't know if you follow us on Instagram but you should because we post of sorts of things like food, quilts, fabric, crafts, etc. Basically anything we love and think others would enjoy, too! Anyway, I randomly decided to post a picture of the Ben & Jerry's ice cream I bought that day. My husband had told me about their new flavor called "The Tonight Dough starring Jimmy Fallon" which is chocolate and caramel ice cream with chocolate cookie swirls, chocolate cookie dough and peanut butter cookie dough. So basically it is a low fat and very low calorie ice cream…..har har. I looked for it at the grocery store this week and unfortunately they were out but I decided to buy a new flavor and it DEFINITELY did not disappoint. If you like chocolate, cookies and coffee then I think you should run to your grocery store and buy this ice cream! My husband and I both agreed it is amazing!
Going along with my theme of healthy eating (again, haha), I made some Monster Cookie bars yesterday and I thought I would share the recipe with you! I have included the PDF file so you can just click and print!
I hope you have a great weekend!!
Jessica